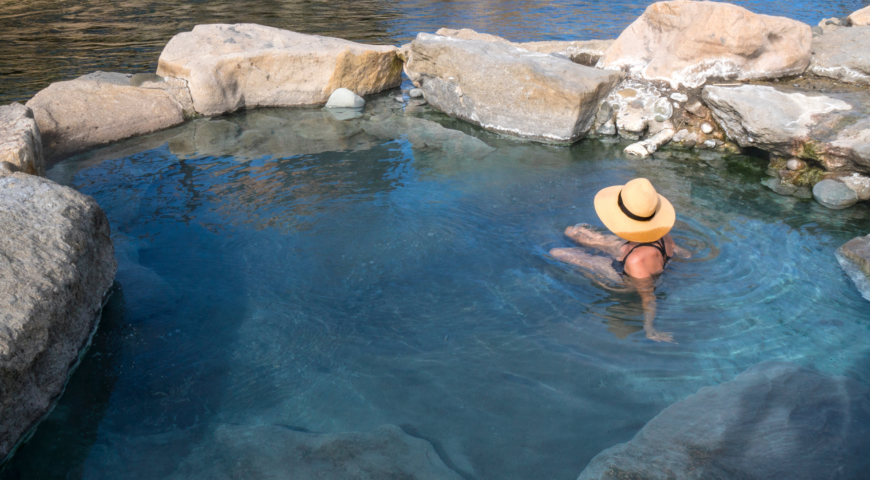 8 Cozy Mountain Hot Springs to Visit in Colorado
Warm Up with Mountain Hot Springs this Winter
Imagine sitting in a pool of natural spring water in the mountains of Colorado. The snow is gently falling around you and each flake melting as they hit the water. The pool is warm enough to melt the winter chill away and ease your muscles. There is nothing more scenic and relaxing than soaking in a warm hot spring pool of mineral water in the mountains after a day's adventure at the Royal Gorge Bridge and Park. There are a few hot springs you can find within a two-hour drive of our park! Read more in this blog about Colorado's cozy mountain hot springs.
Soaking in natural hot springs in Colorado is one of the most popular winter activities by locals and visitors alike! Colorado is home to nearly 100 natural hot springs and 29 developed locations. Hot springs, like those across Colorado, host a longstanding tradition from Native Americans as a healing process for both the mind and body. Whether you desire the resort and spa feel for ultimate relaxation or the remote backcountry pools for an incredible reward after a long hike, Colorado certainly has it all. There are plenty of family-friendly options to bring the kids outside for a day of fun in the mountains.
Here are the details of the eight best mountain hot springs to visit in Colorado this winter, including a few options that are within a two-hour drive from the Royal Gorge Bridge & Park:
Hot Springs Near the Royal Gorge Bridge & Park
1. Mount Princeton Hot Springs Resort: About an hour and a half from the Royal Gorge Bridge & Park is a beautiful hot springs resort tucked among the towering peaks of the Rocky Mountains. Mount Princeton Hot Springs Resort is a natural hot springs area that boasts a balance of natural and man-made surroundings, giving families the accessibility of two developed hot pools and the spa section. Guests can also discover the unique experience of sitting in the babbling Chalk Creek, which has sections of the river that are warmed by the geothermal water outputs. This area gives guests a serene creekside hot springs experience. Mount Princeton Hot Springs Resort is one of the most visited destinations for locals and visitors of the Front Range and surrounding areas.
2. Cottonwood Hot Springs: A boutique hot springs experience is found just north of Mount Princeton Hot Springs Resort, near the mountain town of Buena Vista. Cottonwood Hot Springs provides an unplugged, intimate experience with Colorado's beautiful outdoors. Their gravity-fed hot springs make their pools unique. If you book lodging accommodations with Cottonwood Hot Springs, you can expect a technology-free experience for the ultimate mental and physical relaxation.
3. SunWater Spa: Located just west of Colorado Springs, SunWater Spa is about an hour and a half drive from the Royal Gorge Bridge & Park. This wellness center is found in the charming historic town of Manitou Springs, which has long been known as a holistic healing center for its high concentration of mineral water. SunWater Spa uses this mineral-rich water to fill their heated wood tubs. Soak in a cedar tub, smelling the aroma and taking in the scene of Pikes Peak in clear view from their soaking deck.
4. Hot Springs Aquatic Center: If you are looking for an indoor experience, but still want the refreshing feeling of naturally heated spring water, the Hot Springs Aquatic Center is the perfect destination! This hot springs pool is located in the art district of Salida, just over an hour's drive from the Royal Gorge Bridge & Park. Bring the whole family together and get out of the cold, swimming and splashing in two hot spring pools of mineral-rich water.
The benefits of hot springs have been well known for centuries as Native American have long used geothermal mineral water for spiritual and physical effects. Colorado has dozens of developed hot springs for the enjoyment of locals and tourists alike, including several near the Royal Gorge Bridge & Park! Soaking in naturally heated mineral water is a unique experience, especially at hot spring destinations that are tucked into surrounding mountain peaks. Read more about Colorado's best hot springs in this month's blog.
More Hot Springs Across Colorado
5. The Springs Resort & Spa: This hot springs resort is found in Southern Colorado, among the beautiful San Juan mountains. This is Pagosa Springs' most renowned hot spring as it is fed by the world's largest geothermal spring. You will find 25 pools to choose from, including five adult-only pools, and plenty of options for spa treatments. Gaze over the rushing San Juan River and watch for wildlife high on the hills. If you are traveling in Southern Colorado, The Springs Resort & Spa is a must-do experience!
6. Iron Mountain Hot Springs: One of the newest hot springs destinations in Colorado is Iron Mountain Hot Springs. Found in the historic town of Glenwood Springs in western Colorado, this hot spring features 16 small pools that overlook the roaring Colorado River. The five most abundant minerals in the soaking pools are iron, sulfate, chloride, sodium, and calcium. Iron and sulfate are known for their relaxing qualities.
7. Ouray Hot Springs: Also in Southern Colorado, tucked within the mountain town known as the Switzerland of America, Ouray Hot Springs boasts incredible views of towering mountains all around. This outdoor hot spring features five large pools. This is a great family destination for a chance to be in the outdoors and the fresh air of Colorado, all while staying warm and relaxed in the hot springs. Take unlimited laps on two waterslides, a climbing wall, and an inflatable obstacle course all while enjoying the refreshing and revitalizing mineral water.
8. Hot Sulphur Springs: Northern Colorado is home to a tiny town that has been visited strictly for its hot springs for centuries. Hot Sulphur Springs was found as a winter destination for Native Americans who came to use the hot springs for medicinal purposes. Today, 15 pools remain open for an ultimate soaking experience in this historic mountain town. The amount of water that continuously flows through the pools and the levels of various minerals have remained constant since they were first measured in 1946.