Zip. Zoom. Stroll. Run. Soar.
Make the most of one of Colorado's bucket list adventures — The Royal Gorge Bridge & Park in Cañon City!
Looking to experience the ultimate Colorado bucket list adventure?
The Royal Gorge Bridge and Park was constructed as an engineering marvel in 1929. Since then, we've added various exhilarating activities unlike anywhere else.  Part of the adventure includes understanding how to get there, where to eat, lodging options, and more.
Plan your perfect day and get back to the endless adventure.
Dining Options Inside the Park
All that adventure can make you hungry!
Stop by any of our park restaurants for a delicious bite to eat. Check out the park map to locate Cafe 1230, Bridge View BBQ, Grill on the Hill, Cliff Side Patio, and more! (Some locations are seasonal)
Guests are welcome to bring their own food and non-alcoholic beverages into the park, but not into the restaurants. There are picnic areas in the park for your convenience.
Cafe 1230
Hours: Open during Park hours
Location:  Visitor Center
Our Suggestion: Pizza or a bacon burger!
Ever eaten pizza 1,230 feet above the roaring Arkansas River and next to the extraordinary Royal Gorge in Colorado?
Have a slice at Café 1230, one of the most scenic restaurants in Colorado.
Dig into a bacon cheeseburger, chicken tenders, veggie burger, signature salad, or the pork green chili nachos. Wash it down with an ice-cold Coke or a selection of cocktails and brews from Bristol Brewing Company— a local Colorado Springs, Colorado microbrewery. You can cozy up by the fireplace or sit out on the open patio.
Either way, your hunger will be satisfied.
Gluten-free options: Grilled chicken sandwich, hamburgers, and cheeseburgers, veggie burgers, pizza and salads.
Cliff Side Patio
Hours: Seasonal
Location:  Between the Visitor Center and the bridge
Our Suggestion: Soft serve twisted ice cream in a waffle cone.
Enjoy a peaceful view and snacks for all ages at Cliff Side Patio.
This picnic and seating area look out on one of the best views in the entire Royal Gorge Bridge & Park.
Savor a cool ice cream or ICEE on a hot day. Or munch on some cotton candy or popcorn. Take a sip. Have a bite.
Soak in the scenery.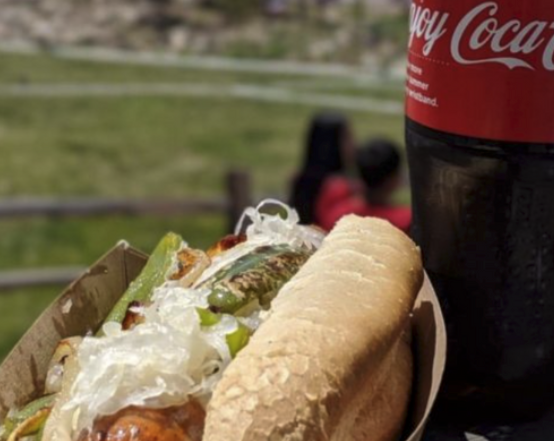 Grill on the Hill
Hours: Seasonal
Location: Southside of the Bridge, across from Elk Park Amphitheater
Our Suggestion: Florence Italian Sausage with all the fix'ns and an ice-cold brew.
If you enjoy listening to live music from a shaded deck while you enjoy mouthwatering cuisine and a cold drink, Grill on the Hill is for you.
As close as you can get to your own backyard gatherings but with someone else manning the grill.  Chill on the deck and enjoy the natural surroundings. You may get a glimpse of wild Mountain Goats as they love this area of the park.
Bridge View BBQ
Hours: Seasonal
Location: Southside of the Bridge inside the park.
Our Suggestion: Ribs, Baked Beans, & A Stuffed Potato
Sometimes on the south side of the Royal Gorge Bridge, you can smell the aroma of smoked meat wafting through the breeze.
The reason? Bridge View BBQ, where a whole smorgasbord of southern cooking is at your fingertips.
Stop in for a brisket or pork sammy, delicious ribs or sausage links, and a choice of side.  All meat is smoked in-house with a secret rub.
Complete your feast with a delicious Bristol Beer Brew or an old fashioned root beer float and leave your stomach speechless.
Stay on the edge of the Royal Gorge
Big Horn Mountain Top Lodge
Watch a sunset over the surrounding mountain ranges. Wake up to a sunrise shining over the Royal Gorge. Guests can rent the entire Bighorn Mountain Top Lodge, a 1,500-square-foot facility positioned high above the Arkansas River. Your group or family can spread out in the three bedrooms, two baths, and enjoy the fireplace lounge, panoramic views, open dining area, and secluded outdoor patio.
Other amenities you can expect during your stay include:
Additional Amenities: Direct TV, Full Kitchen with Oven & Microwave, Kitchen & Cooking Utensils, Coffee Maker with Coffee & Tea, Full-Size Refrigerator, Dishwasher & Soap, Basic Toiletries, Queen Sized Beds, Bed Linens & Towels, Washer & Dryer (Detergent not Provided) and Outdoor BBQ Grill (Propane Provided)
RATES
Weeknights (Sunday through Thursday) $325/night
Weekends (Friday and Saturday) $400/night
       *2 night minimum
Payment is due at time of booking. A 14-day cancellation notice is required to avoid a cancellation fee.
Stay Somewhere Close To The Royal Gorge Bridge and Park
Other Local Lodging Options
Stay up to date with our latest attractions and events.
Enter your email address for the latest park updates, discounts, and more!